As promised, here is a look at the class that I have played the most during the Warhammer Online Beta. I'm going to give you guys my thoughts and impressions as I have experienced them first hand. Don't think of this as the end all be all of Shamanism and don't think of my impressions as infallible scripture.
Introduction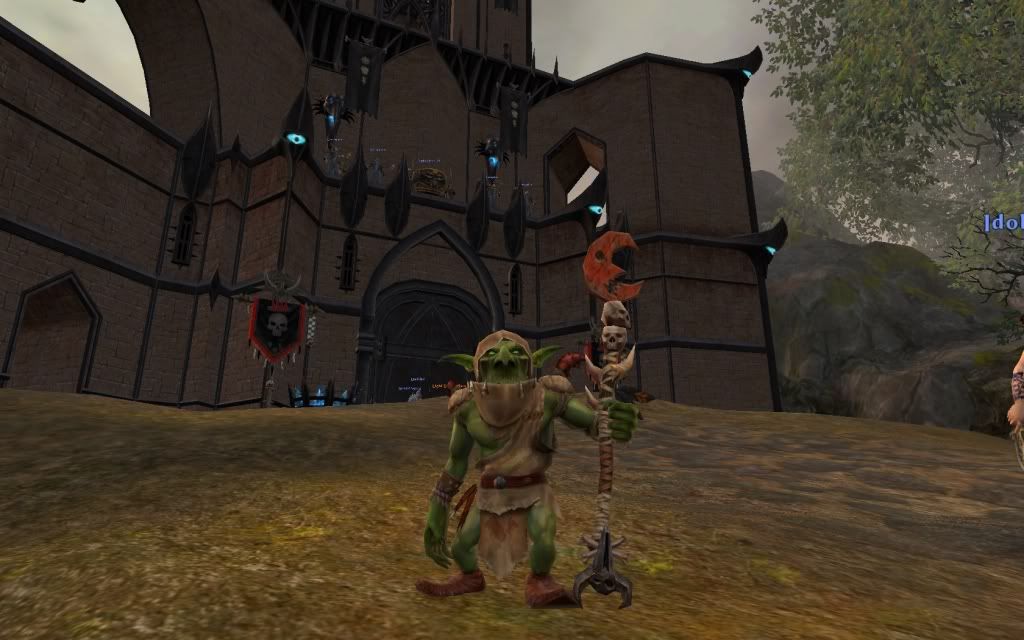 The Shaman fits into the caster/healer archtype making him the perfect choice for players who want to sit back, cast offensive spells, and heal. However, this is totally the wrong choice for players who want to be up in the thick of the action taking hits. The Shaman is a very squishy class since he is restricted to 'robe' armor but is quite capable of dealing out both damage and healing. The Shaman is without question a hybrid class and a jack of all trades. He's not going to excel at healing, damage, buffing, cc, debuffing, or any one thing. He will, however, give you a little taste of it all.
The Shaman's waaagh mechanic is a back and forth system where his heals make his damage spells better and vice versa. Some heals (perhaps all, I have not used every heal) will become instant cast at 5 waaagh which makes burst healing nice. The downside to this system is that in a big fight there is never enough time to build up waaagh -and- keep people alive.
Mastery Paths
Mork – The healing tree. This is, without a doubt, the most important mastery path. Why? Because the shaman healing suffers from hybrid-syndrome. In other words, if you want to heal well then you need to boost your heals by speccing in this tree at least some.
Gork – Damage Spec. There are some interesting abilities in this tree, especially at the end, like aoe knockbacks. Right now the jury is out on whether or not it's worth speccing to the end to get these interesting abilities because if you do then you'll sacrifice Mork points. It's also a tough call on whether or not speccing to deal damage will be socially acceptable. If you're not healing constantly then people will die. If people die because you were doing damage… it gets ugly.
Da Green – It's a debuff/buff tree. I like some of the potential this tree has for really hindering the enemy except I can't in good conscience justify spending a single point in here when the other two trees are so much more active. In a fight I'll use 90% Mork/Gork and maybe cast a debuff once. This tree also benefits little from the waaagh mechanic.
So is he good or does he suck? Out with it!
Healing – Life is tough as a Shaman from 1-20. This much was made crystal clear to me. My heals were not sufficient to keep my group alive in big RvR fights even when I went full Mork. I judge my Shaman's ability to heal based on how well the other classes do. I did some research and found that the Archmage is the same way but all the other healers are not having anywhere near as much trouble as I am. I'm saddened and actually turned off from the Shaman given that if things don't change I will be forced to spec Mork and be a healbot. Playing at level 31 I noticed things did change some. I have more HoT's, the ability to remove DoT's, and overall my heals were slightly better but still nowhere near the other healers in RvR. (In PvE the shaman heals just fine.)
Damage – Okay, we're a caster/healer. We're supposed to deal the most damage of all the healers. That justifies our survivability being low and our healing being low, right? Maybe I missed it but aside from Gork sez Stop I can't find a single way for Shaman to out damage Warrior Priests or Disciples of Khaine. (Note: Archmage is the same). I think we definitely out damage the Zealot and Runepriest though. The damage level 1-20 was not enough to kill anyone 1v1 (which is fine, I can accept that) but it was so low that if the enemy had a healer of any class in their group my entire damage was negated with one heal.
Survivability – The pits. Levels 12-20 I was dying in 4-5 hits from a tank. That's just a matter of seconds. I could throw up my bubble (it's a damage absorption shield that absorbs 300 something dmg) but the tanks were hitting me for 200+ … so two hits and it's gone. I just die too quick as a Shaman at low levels. It just compounds the issue of having to keep my group alive in RvR. If I'm constantly avoiding damage then I'm adding another obstacle keeping me from healing. Having ONE person attacking me has often caused people in my group to die. At level 31+ the survivability gets better with our HoT's stacking and our Hex removal. We can essentially make one target invulnerable while they have all the HoT's on them.
Bottom line here is that the Shaman class has a few serious issues. He is too squishy early on and is shown up on the battlefield by others. Aside from Hex removal, why have a Shaman over a Zealot or DoK? That's the BIGGEST question that people have to ask themselves. For those of you saying "ohhh Shaman are fine!"… would YOU want one healing you?
The class has some issues but is it FUN?!
Heck yes! The class is a blast to play! I get pissed off when my heals suck and I cry a little inside when I spent 3 minutes getting someone to half HP just to watch 1 heal bring them back to full but I still enjoy everything about the class. I love the look of a Shaman, the theme of his abilities, the style of gameplay being a caster/healer provides, and the potential he has at higher levels. If the Shaman can get just a few tweaks he will be golden.
Given the state of the Shaman I am currently debating whether or not this will be my class at launch. I've played all the other classes and find myself doing/performing better with them. I'm just not sure I enjoy the other classes as much. What a conundrum! If I do end up playing a Shaman at least I know it can only get better.
If anyone has Shaman tips or information to share with me (especially end-game Shaman info) that would boost my spirits about this class please share them!